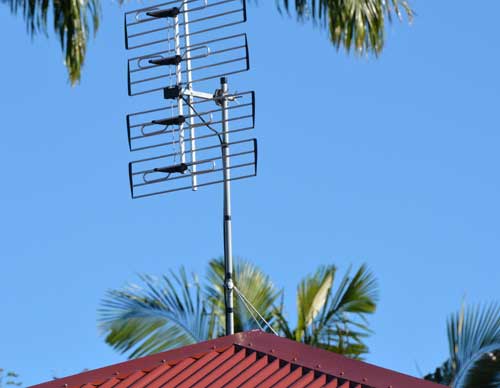 If you're looking for someone to install a TV antenna in your home, your commercial property or holiday house, Rockhampton TV Antennas are your local antenna installers.
We understand that not everyone is handy, or confident enough to try and install something like a TV antenna into their home, so if you're looking for TV antenna installers in the Rockhampton area, we've got you covered. New homes, replacement antennas, commercial installations, you name it – we install it.
If you're experiencing issues with your TV antenna, it's possible you might need a TV antenna replacement. Replacing an old, worn-out antenna can solve a range of reception problems from fuzzy pictures, pixelated reception, signal dropping out or scratchy, dodgy sound on your TV channels.
Our team of installers is ready to put you in the picture
We have a team of installers (all Rockhampton locals) ready to help you with any TV antenna related issues from replacements, new installs to simple advice on getting the best signal from your television.
We will look at a range of different elements that will impact on the best type of antenna for you. This could include the type of television you own, where your home is located in Rockhampton (some areas have stronger signals than others) or if there is possible interference from external courses and what can be done about it.
Antenna Positioning
The line of sight available to your nearest transmission tower is a critical aspect to the placement of a TV antenna on your roof. If the signal is obstructed or far away from the nearest transmitter, there may be signal problems or reception issues.
We can test the signal strength available in your area and help choose the best location for your antenna so you and your family are able to enjoy clear, high-quality, crystal-clear pictures on your TV any time of the day or night.
Signal Boosters
If your home is in a gully, has an obstructed signal for some reason or your area just doesn't get a good TV signal, a signal booster may just be the answer. Signal boosters help to extend your coverage and can improve the reception of your current antenna if required.
We realise that some areas of Wandal (because you're in the shadow of the hospital) Frenchville and Yeppoon can all have weak signals. Parts of the range and Emu Park Roads also aren't great.
We can tweak all the systems and make sure you have a high-quality digital antenna, the correct positioning on the roof and will ensure all the cabling and connections are to the latest standards.